Feel the rhythm of your body while you engage in this dance-like style of yoga. This graceful practice links breath and movement together to create a flow of air and energy. Any level yogi can participate in this fast-paced style that will help to center you mind and enliven the body.
In this gentle form of yoga you will experience the basics at a slower pace, but with all the mindful and physical benefits. You could say that "hatha" is the foundation of all yoga practices because in Sanskrit the term actually refers to any yoga that teaches physical postures.
This mellow, slow-moving practice gives your body a chance to breathe. While you stretch and restore, you'll tap into your parasympathetic nervous system, allowing you to experience deeper relaxation.
A slightly more intense form of Vinyasa, Ashtanga offers you a flow that builds internal heat and core strength. The practice consists of six series of specifically sequenced yoga poses that are meant to challenge the body and awaken the breath.
If you want to calm and balance your body and mind, this is where you'll find your zen. Yin yoga poses are held for several minutes at a time. This meditative practice is designed to target your deeper connective tissues and fascia, restoring length and elasticity.
Andrew is a New York based yoga teacher and actor that has taught and performed all across the country. Andrew was born with arthrogryposis, a congenital joint contracture that shortens and weakens muscles around joints. His yogic journey began in 2010 when a dance teacher suggested hot yoga to help combat the challenges his condition presented for the dance training he was receiving with his BFA in Music Theatre. He quickly discovered that the benefits from the cross training extended further than his physical movement. The connection of breath and movement helped his singing, dancing, and acting. Most of all, it helped him to find more awareness of the present moment. He has studied various styles including Bikram, Ashtanga, Yin, and Vinyasa. Andrew received his RYT 200 hour training from the Core Power Yoga studio in Fort Collins, Colorado. Andrew is passionate about sharing his knowledge and love of yoga by guiding students through their practice towards discoveries that they can take off their mat. He weaves his understanding of yogic philosophy, human connection, and music together to build a fully themed and complete yoga class that can be enjoyed by all!
Jenilyn Faith Spates lives in the United States while offering vibrational healing methods around the world through the practices of massage therapy + yoga + young living essential oils. Jenilyn began her massage training in 2003, found yoga in 2006, and enjoys offering private or group lessons as well as combination massage, yoga, and oil packages.  Her knowledge of the human body and love for yoga philosophy has shaped her slow, restorative, anatomy focused teaching methods. She enjoys offering lots of options for a wide range in a classroom setting or creating customized practices to help ease individuals into a home health routine.  Jenilyn is endlessly grateful to her teachers  +  students for the opportunity to share these healing crafts.
Jacqueline Helene, e-RYT 200, RYT 500, certified in reiki level 2.  Diving deep into all that inspires and astounds her, she has traveled throughout India picking up profound knowledge and wisdom into the world of yoga. You can currently find her in New York City on her mat or in meditation where she continues to teach and learn all she can about the marvelous universe we are a part of. Her style is fluid, and hypnotic, allowing you to find and feel the own rhythm of your body and breath. Certifications also include, pranayama, meditation, vinyasa, restorative, yin. Jacqueline believes that everybody, no matter their body type or background, can benefit from the holistic practice of yoga. It brings balance to the unstable, mindfulness to the fraught, and peace to the center of your everyday life.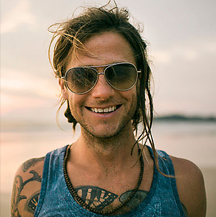 Joey Paz embarked upon his yoga journey in 2008 with Andrew Eppler and Jennifer Engleman at Ashtanga Yoga Studio in Norman, Oklahoma. He went into his first yoga class somewhat skeptical and not knowing what to expect, but by the end of the class, knew he had stumbled upon something profound and life-changing. From that day forward he has continued to pursue and deepen his studies, traveling to Mysore, India on numerous occasions for many months of extensive training and study with Guruji, Sri BNS Iyengar, the world's foremost scholar of yoga and top living master in the Ashtanga Vinyasa lineage of yoga. Joey has also studied in-depth with a wide array of yoga luminaries and elders, including David Williams, Danny Paradise, Baptiste Marceau, Dominic & Stephanie Corigliano, Bryce Delbridge, Kanchen Mala, Dr. M.A. Jayashree and Narasimhan of Ananta Research Foundation, Seth Powell of Yogic Studies, and Dr. M.A. Alwar of Maharaja Sanskrit College in Mysore. In 2014 he completed his 200-hour YTT with Andrew at Ashtanga Yoga Studio, and in 2015 completed an additional 200-hour teacher training at Krishnamacharr Yoga Shala in Mysore. In January 2019, he will complete his 500-hour YTT training with the Himalayan Yoga Association in Rishikesh, India.
In addition to his devoted practice, training, and studies, Joey is co-producer of the recent documentary film, "Mysore Yoga Traditions," a groundbreaking glimpse into the history, philosophy, and fabric of yogic culture in Mysore, India, the birthplace of modern yoga.